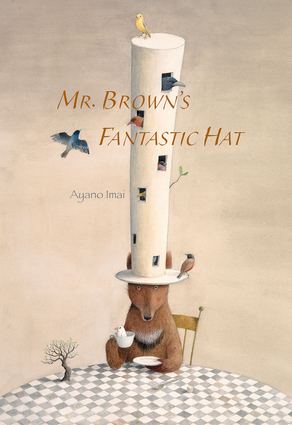 I have a bit of a love-hate relationship with birds. I love images of them, but in the flesh not so much (for those of you that know my terrible bird work story you will be in full sympathy I'm sure).
If you suffer from a similar conflict and prefer your birds sans flapping, then this is the book for you. The illustrations are soul-strokingly good.
Mr Brown has no friends, and doesn't want any. He does however have a smart hat which he wears on long walks. He tells himself life is perfect, but really he's pretty lonely.
One day a woodpecker moves in to Mr Brown's hat followed by more and more birds. To Mr Brown's amazement and eventual delight, the hat grows and grows in order to accommodate all the new inhabitants.
Winter, and the birds' migration is a sad time for Mr Brown, but as with everything the season passes and while Mr Brown was hibernating, his hat had grown roots and turned into the perfect tree-home for his bird friends.
Everything about this book is beautiful.
Check out Mr Brown's fantastic hat at Auckland Libraries.
Or buy Mr Brown's fantastic hat from Fishpond.